Main information
Common single entrance
Adults
CZK 250
Families (2 adults + 4 children aged 3 to 15 years)
CZK 800
Children (aged 3 to 15 years)
CZK 200
Children under 3 years*
Free admission
Parking – passenger cars
CZK 200/250**
* From birthday to day-before-birthday
* Parking fee 250 CZK - weekends, public holidays, summer holidays daily; 200 CZK - other days.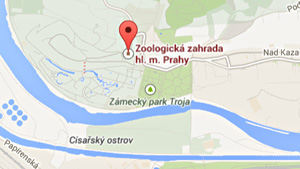 Prague Zoo is located in the Praha Troja municipal district. Its address is U Trojského zámku 3/120. If you want to take a trip to our zoo, you can go by public transport, car, or bike, or you can even enrich your trip with a steamboat ride.