Shanti the Asian Elephant

She is the tallest and second-oldest female elephant in the Prague herd. In addition to her height, she can also be distinguished by her conspicuously bulging forehead. As a little calf, she arrived in Czechia to lead a life of cinematic stardom; recently, as an adult, she gave an exhibition of her own paintings. Meet Shanti the artist!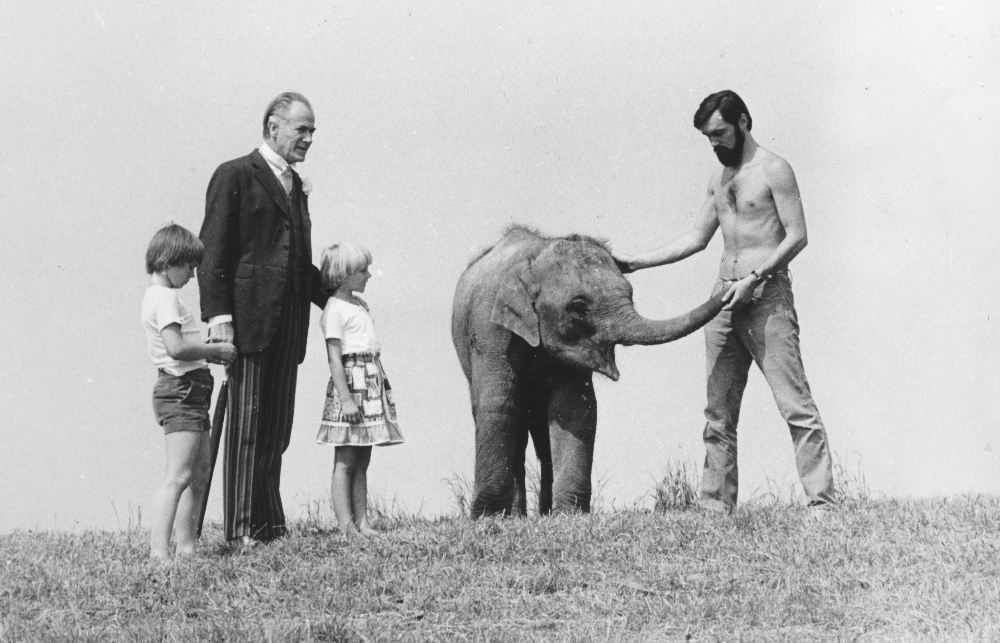 Shanti the Asian Elephant (c) Josef VitekOrigin
The Asian elephant cow named Shanti was born in 1976, probably in February or March, and has come to be number 14 in the succession of elephants who have made their home in Prague Zoo. Born in the Indian state of Assam, she came to Europe in a large-scale elephant transport on May 5, 1977, at the age of about 16 months. A month later, having been purchased by Barrandov Film Studios, she arrived in Prague to star in a children's movie called "Poplach v oblacích" (Alarm in the Clouds). Afterwards, she was purchased from the studios by Prague Zoo.
In the movie, she was cast as an elephant calf by the name of Bimbo. She had been prepared for this role during a month-long quarantine spent in Prague Zoo. At the end of July, after Shanti had made the acquaintance of the movie's human stars, the shooting began. It lasted, with several breaks, until September and took its stars to various places in Bohemia, among which were Prague's international airport; the Museum of National Literature in Strahov; Prague Zoo; and, finally, the Grandhotel Pupp in Karlovy Vary.
In September 1977, with the shooting finally over, a small celebration was held and Shanti was officially turned over to Prague Zoo. Here, she joined a herd of five elephants, mostly juveniles. However, their shared quarters turned out to be only a temporary solution, for as the elephants were reaching their adult size, the pavilion gradually became unable to accommodate such a large group. And so Shanti has spent most of her life in the company of only one or two other elephants – one of whom was always Gulab, an elephant cow who, when Shanti arrived, was, at 18 years of age, the oldest member of the herd.
Life in Prague Zoo
Shanti has spent almost all her life in the former Pavilion of Big Mammals in the lower zoo, nowadays replaced by the Bororo Reserve – a rest and play area for families with children. This structure no longer houses elephants, although you will still find it in the lower zoo. When the 2002 flood struck, the location of the old pavilion showed itself to be rather unfortunate – the pavilion was not safe from the rare but nonetheless real danger of a 'thousand-year flood', a predicament made worse by the fact that large animals like elephants are very hard to evacuate. It was therefore decided to build a new, modern elephant house outside the flood zone, in the upper zoo.
Shanti moved into the new elephant compound, named Elephant Valley, in the spring of 2012. Here, she is kept company by several other female elephants of various ages, from calves (including the first calf ever to be born in Prague, a female named Sita) to the "elephant grandma" Gulab. Prague Zoo also has an elephant bull, who, however, lives apart from the rest of the herd for most of the year. The disposition of the herd corresponds to the conditions in which elephants live in the wild. This way, our sensitive giants are able to fully develop their mutual relationships and the rich spectrum of their social expression.
The compound provides the elephants with everything they need to live a contented life. In the open-air enclosures and the heated pavilion they can enjoy an invigorating bath, treat their body to a sand shower, or savor a spell of rapturous scratching and rubbing against natural tree trunks, boulders or a special scratching surface. All this on a liberally designed area of almost one hectare.

Temperament
Shanti has all her life been a friendly, albeit a little insecure, elephant. She has always looked for support to the dominant Gulab, who took her under her wing when Shanti was just a wee little calf: they have been inseparable friends ever since. When they lived in the old elephant house, their caretakers would take them out for walks through the lower zoo and, a long time ago, even down to the Vltava River to bathe. That is all history now: the new, spacious pavilion provides the elephants with every comfort and such excursions are no longer necessary.
All the zoo's elephants are required to master a couple of essential movements that make it easier for their keepers to take care of them. Shanti took it a step further: she turned out to be a very gifted pupil and one that is actually eager to cooperate with her caretakers. After all, she knows full well that if she responds and carries out the required movement, she will receive a reward in the shape of her favorite treat – something too enticing for Shanti to resist. As the elephants did not have many possibilities for recreation and entertainment in their old pavilion, their caretakers decided to harness Shanti's talent and teach her how to paint – as a form of animal enrichment. The results amazed even the most hardened skeptics! Shanti's abstract yet cheerful paintings ended up in respected art galleries, where they sold for five-figure sums! We should add that all the proceeds were donated to support captive elephant breeding in the elephants' Asian homeland – the island of Sri Lanka.
Today, Shanti no longer paints, as life in the new elephant house offers a lot of variety on its own. She did find it a little difficult to find her place in the new herd: she had, after all, been accustomed to live all her life within a much smaller group, and, since her transport to Europe, she had not come in contact with calves, so she did not know how to behave towards them properly. But these initial difficulties were smoothed out and her introduction to the other elephants ended up a success. And even though Gulab remains her chief ally, Shanti is now a rightful member of the herd.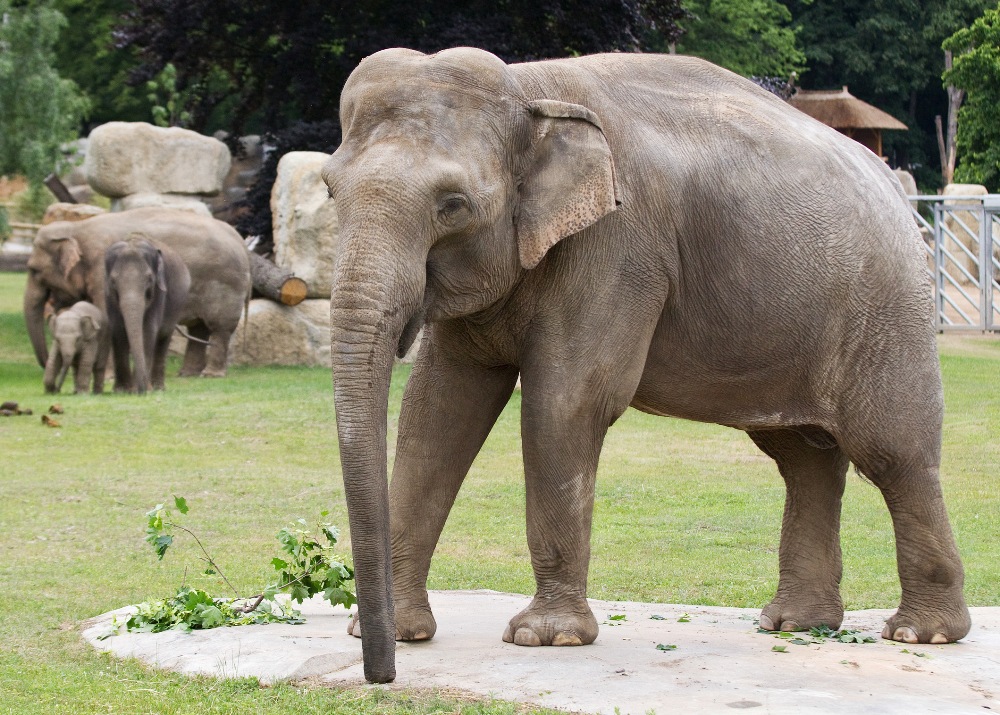 Shanti the Asian Elephant (c) Tomas Adamec