My home, my castle. Don't miss this!

When I left my office to watch the couple of hamerkops that were tirelessly carrying material to their already gigantic nest in the aviary under the cliff, Helena Růžičková's replica from the well-known Czech comic film Sun, Hay and Strawberries came to my mind: "If you build an extension, we'll add a whole floor!" Except the hamerkops added two floors straightaway.
Having about a half meter in height, hamerkops are birds which I often used to see in the company of our black storks on their wintering grounds in Sub-Saharan Africa. However, usually it is said (1) that they were named after the shape of their head, which resembles a hammer in profile, then (2) that in Africa they are surrounded by many superstitions and legends, and finally (3) that they build really large nests. After all, Emil Holub has already written about them: "The nest is 50 to 95 centimetres high; you can measure the upper circumference of 2 to 2.5 metres; however, at the bottom it protrudes to a point, therefore it is not unlike an inverted truncated cone. The nest itself, into which a square hole wide and high from 20 to 26 centimetres leads, the hamerkop builds from brushwood and soil."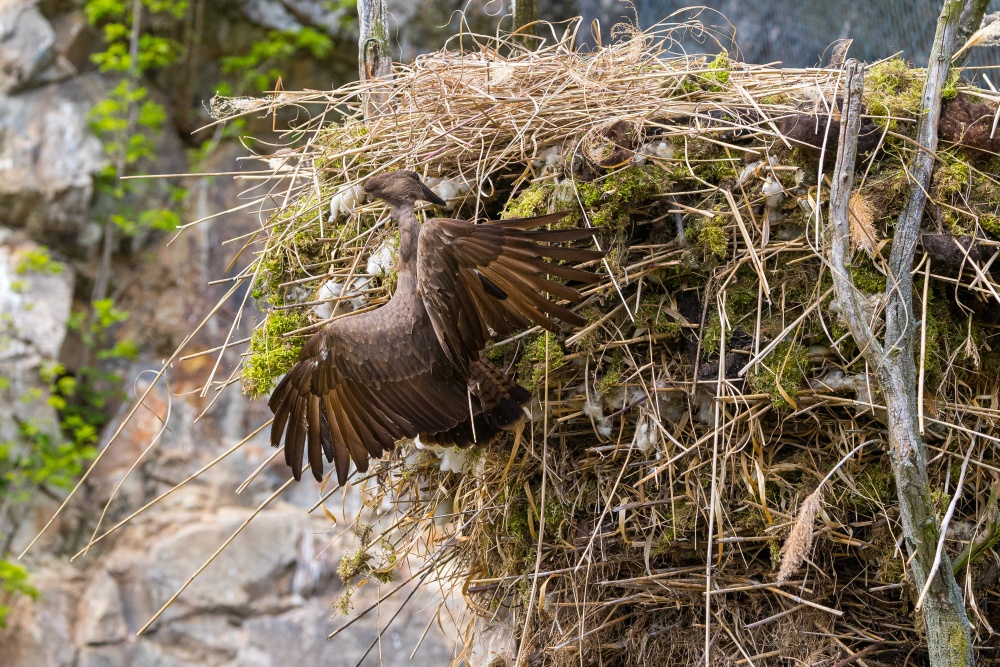 Photo: Miroslav Bobek, Prague Zoo

Our hamerkop couple started building last year. At the "ground floor" they first raised a chick, but then they continued the construction and built the "first floor". That was not surprising, hamerkops are passionate builders that build regardless of the necessity of their structures; perhaps it helps them to strengthen the relationship in the couple. This year hamerkops continued in the aviary under the cliff with a third floor. Currently they have stopped working and their cone-shaped nest has the upper diameter of about 160 cm and a height of two metres. It is really a mega-nest that you should not miss!
At the same time as hamerkops other birds were building their modest nests in the aviary under the cliff, so that the hamerkops would not dismantle them immediately and carry the material on their own construction, the keeper Aneta Kratochvílová took care of the supply of material. She carried to the aviary about twenty bags of dry grass, moss and other building material – but she still did not protect everything, for example, the visitors' reed shelter from the hamerkops. There are serious holes in it.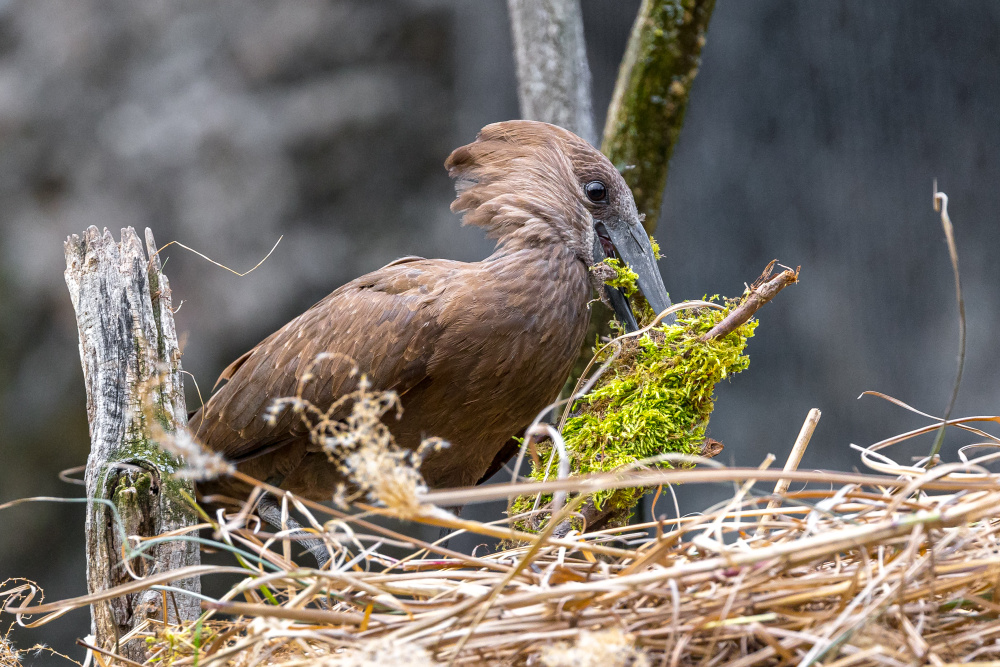 Photo: Miroslav Bobek, Prague Zoo
I have consulted my colleagues from the construction department about how much the hamerkops' nest might weigh. They estimated it at 300 kg. When it is dry. It will be much heavier when it gets wet. Therefore, I had supports added to it and I will wait anxiously if hamerkops continue with its construction after finishing nesting this year. After that, it may be worth entering in the birds' book of records.