In the same week that the main season began at Prague Zoo, we set off for Berlin's Tierpark with Prťka (Midget).
Prťka is a female European Bison who was born in Troja on September 1st, 2017. Since all bison from Prague must have names beginning with the letters PR and Prťka is the 94th calf of this species to be born at our zoo, it was not easy to find a suitable name. You try finding 94 words beginning with "Pr"! Fortunately, just at the right moment, we were inspired by a line from the Czechoslovak film Snowdrops and Aces – "Hang on, Prťka, Hang on!" The actor who spoke the line, Václav Kopta, and the actress Veronika Freimanová, became Prťka's godparents, even coming to say goodbye to her before she left.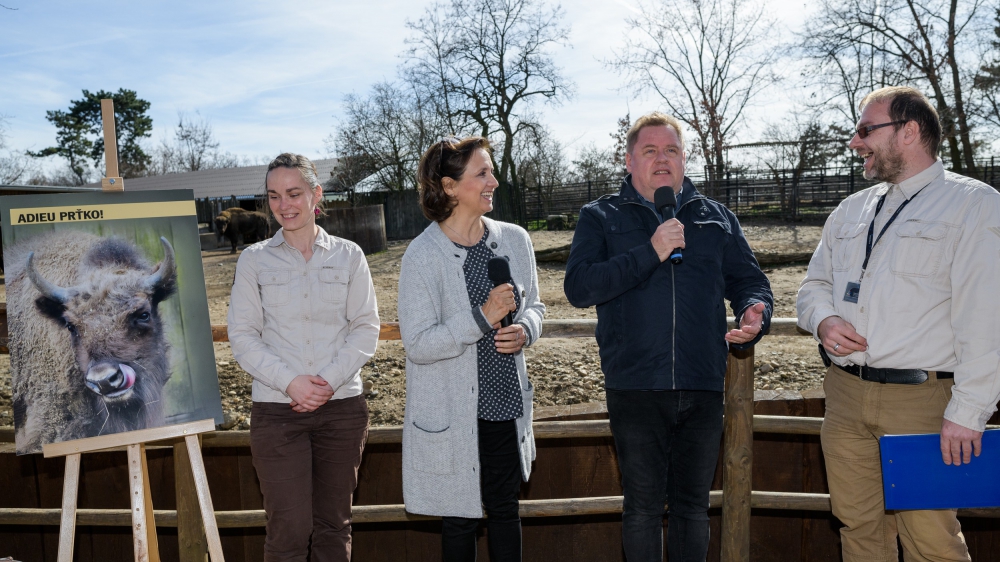 Photo: Petr Hamerník, Prague Zoo
Soon Prťka, along with other bison from several European breeding facilities (including Pilsen Zoo), will leave Berlin to travel to the Caucasus to become one of the founders of a new bison population in Azerbaijan's Shahdag National Park. She will be the 7th bison born in Prague to be returned to the wild. The six previous ones, however, went to Bieszczad in Poland, near the border with Slovakia and Ukraine.
The Caucasus Bison (classed as a separate subspecies) officially became extinct in 1927. At the time the Czechoslovak press wrote, "under the Bolsheviks the last bison has disappeared from the Caucasus as they even organised hunts with machine guns". However, the first attempt to return bison to this mountain range took place as early as 1940, although, from today's point of view, it was not exactly a happy affair: crosses between European and American Bison were introduced into the Caucasus. It was only later, that the repatriation of bison from the lowland-Caucasian line began to take place, which is also Prťka's parentage. Unfortunately, efforts to save a purebred Caucasian Bison failed.
Currently, there are approximately one hundred and thirty bison of the lowland-Caucasian line living in the Caucasus. However, they are in areas other than the one that Prťka, along with the other bison being assembled in Tierpark Berlin, will be returned to. Our Prťka - together with Ontario and Ony, two males from Pilsen Zoo - will thus become kind of a pioneer and representative of our country. Although I'm not sure how well they'll be able to pronounce her name in Azerbaijan. But, that's just a detail really.
Good luck, Prťka!