A poacher instead of an Old Maid

"Tři sta třicet tři stříbrných křepelek." The Cameroonian schoolboys laughed as they successfully repeated the Czech tongue-twister after me. We were theirs. Later we handed out decks of cards and began to teach them a modified version of Old Maid. It consisted of pairs of cards depicting animal species that are protected by law in Cameroon – beginning with elephants and gorillas and moving to African buffaloes and pangolins – however, the loser is whoever keeps a poacher in their hand, not an old Maid.
I lost the first game. White poacher!
The next stage of the Wandering Bus journeys began in Lomié on the eastern edge of the Dja Biosphere Reserve. This project, run by Prague Zoo, takes children from around the reservation and introduces them to nature conservation, thus helping to curb poaching. It is now in its fifth year. In Lomié, the Wandering Bus closed the circle that it gradually drew around the Dja Reserve.
At the same time, another group of children from the edge of the forest were looking around a rescue station near the Cameroon capital Yaoundé. Most of them had yet to travel far from their village, so the few days' journey on the Wandering Bus was an enormous experience for them. Right now they are seeing gorillas for the first time in their life. That means live gorillas, not just pieces of gorilla meat near some poachers or even on a plate.
In Dja - and elsewhere in Africa – poaching represents a major risk for a whole host of animal species. However, poaching is not done out of necessity. For instance, wild animal meat is more expensive than beef. It is a strong tradition that is tied to a profitable business. Although there are laws strictly forbidding the hunting of gorillas and many other animal species, their enforceability is another matter. The reservation's rangers and other bodies are developing a variety of activities, but they are far from sufficient. Repression alone can never be sufficient.
To gradually reduce the illegal hunting of gorillas, pangolins and other endangered species, it's necessary to pay special attention to education and training. Not only are school children receptive, and – as is frequently colourfully said – they are the future, but they can often also influence their parents. Therefore, we have developed the Wandering Bus project and other activities tying in with it.
Teaching school children to play cards with a poacher instead of an Old Maid is simple. Running the Wandering Bus for all these years is infinitely harder. However, it remains one of the hopes that things will change in the Dja region and that gorillas and other endangered animal species will survive there.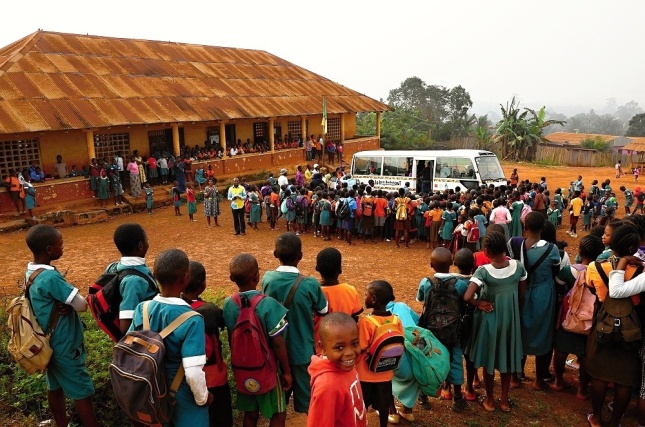 Photo: Miroslav Bobek, Prague Zoo