JOY IN DJA RESERVE: GUENONS WELCOME A BABY

The little De Brazza's monkey was born at Prague Zoo in the early hours of last Wednesday. His mother, Anastasia, is an experienced female and the keepers say both are doing well. Visitors can watch the olive-green infant in one of the main exhibitions of Prague's latest pavilion.
"The baby is clinging tightly to its mother's tummy and is almost constantly attached to her teat. Visitors are most likely to glimpse it on a log in the middle of the exhibit, where Anastasia likes to sit and "show" her offspring to others. It is already very inquisitive and gazes around its surroundings from the safety of her arms while its older siblings look at it and sniff it. Especially its older sister Mimo, who often makes a fleeting touch," said its keeper Jan Ťoupal.
The infant was born a week ago to Anastasia, a nine-year-old female, the father is a male, Malik, who is six months older. De Brazza's monkeys are the only members of their genus that often form monogamous pairs. Malik is also the father of the baby's older siblings – Mimo, a three-year-old female, and Malanga, a two-year-old male. They are already fully independent but will remain with their parents until they reach sexual maturity at the age of five.
With its pink skin and monochrome colouring, the week-old newborn is still very dissimilar to its parents, who are characterised by dark skin, olive fur, a white beard and an orange headband. The baby won't come into its full colours for three years, but in six months it will be able to show off the white beard that its older siblings already have.
"For the time being the De Brazza's monkey is considered relatively abundant, but, like the red river hog, that it shares the exhibit with, it is a frequent victim of poaching. In some areas it is also persecuted by farmers because it damages their crops. Above all, however, these arboreal monkeys are threatened by habitat loss due to encroaching human settlement in Central Africa," explained primate curator Jan Mengr.
The best time to see both the De Brazza's monkeys and the red river hogs, with which they share the exhibition in the Dja Reserve, is around 2 p.m., when they are fed fruits, root and leaf vegetables, special pellets for primates, seeds or nuts, as well as the odd locust or two.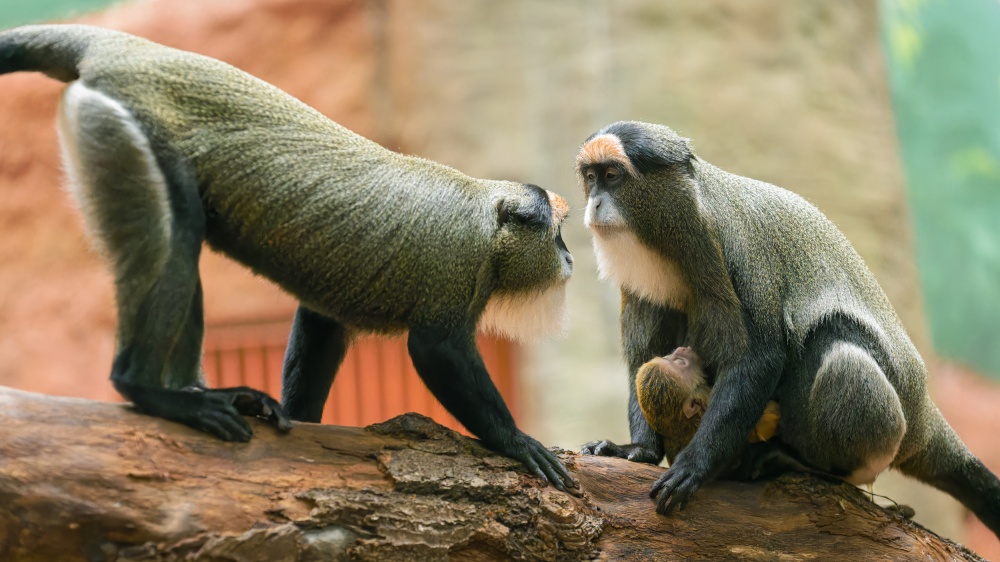 Its siblings have been highly interested in the new addition since day one. Pictured here, the older sister Mimo checks it out. Photo Petr Hamerník, Prague Zoo