KAWI CELEBRATES HIS SECOND BIRTHDAY. THE BABY ORANGUTAN IS THRIVING AND IS A HOPE FOR HIS SPECIES

Kawi celebrated his second birthday recently. The male Sumatran orangutan is learning veterinary training, eating more and more solid food and his acrobatic stunts make him a favourite with zoo visitors. But above all, his rare genes mean he is a hope for the conservation of his species.
"Little Kawi is instantly adorable, but it must be remembered that this is also one of the most important offspring Prague Zoo has had in the last few years," said Miroslav Bobek, Prague Zoo's director, adding that genetically he is extremely valuable. "At a time when orangutans in the wild are facing massive deforestation, every such addition is a small step on the road to biodiversity conservation."
Wild blood flows through Kawi's veins thanks to his great-grandparents, Bimbo and Sonya. They came to Prague from the wild in the 60s and founded the local stud. With Kawi's birth two years ago, he became the third baby to be born at Prague and is the only great-grandchild of these orangutans which came to the zoo directly from the forests of Sumatra. These forests are disappearing at a dizzying rate today, which is why Sumatran orangutans are critically endangered.
Naturally, Kawi has no inkling about the alarming situation facing his species. "He spends most of his day exploring his surroundings, watching his family, who are role models for him, and eating. Soft, sweet fruits, such as papaya or mango, are his favourite," said Martin Vojáček, the head keeper for primates, noting that despite having had solid food, Kawi still drinks breast milk. "Orangutans have one of the longest reproductive cycles among mammals, and can nurse for about four years," he added.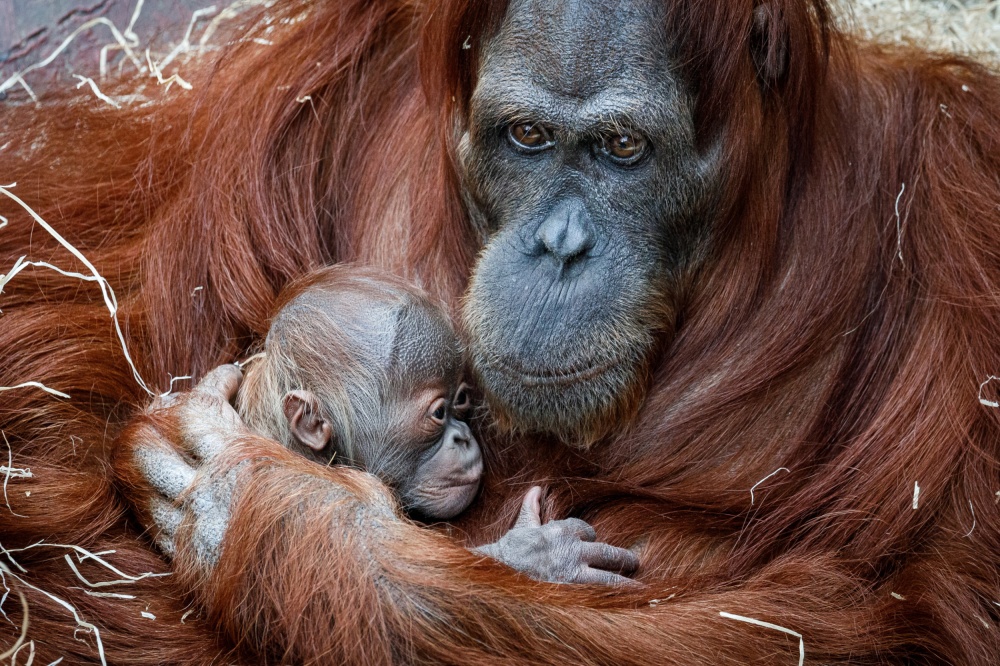 The little orangutan is sometimes called "Velvet Kawi", because of his birth date. He lives in the Indonesian Jungle Pavilion with his father Pagy, mother Mawar and older sister Diri. Visitors can best observe his antics around 10 am, when the ape family is fed.
People can also see Kawi's face peering from the windows of bookshops these days. His picture adorns the cover of The Red-haired Librarian a new book of sketches by the zoo's director, Miroslav Bobek. Pustakawan, Kawi's full name, means "librarian" in Indonesian, referring to the orangutan character in Terry Pratchett's Discworld series.