Prague Zoo stands together with the Ukrainian people

On Thursday, 24 February, Prague Zoo drew a line with regards to Russian aggression by suspending its membership in the Euro-Asian Association of Zoos and Aquariums (EARAZA), which has its headquarters in Moscow and mainly brings together establishments from the former Eastern Bloc. Ukrainian zoos have already left this association.
Prague Zoo is also preparing some aid for the families of Ukrainian employees working for companies operating in its grounds. When possible, it will also try to support Ukrainian zoos affected by Russian aggression.
As of Monday 28 February, we are also letting Ukrainian women and children enter the zoo for CZK 1. This may possibly help them forget the horrors of war, at least for a while... To enter for one koruna, simply show a valid passport or a Ukrainian ID card.
With this in mind, we are also looking for guides who would be able to interpret into Ukrainian for these Ukrainian visitors. Anyone interested can contact us at doktorova@zoopraha.cz.
Sooner or later, Ukrainian zoos will need financial support. Therefore, we at Prague Zoo have decided to create a special sub-account of our "We Help Them Survive" collection account. You can send any amount you want to the account given below, please put "Ukraine" in the remittance information.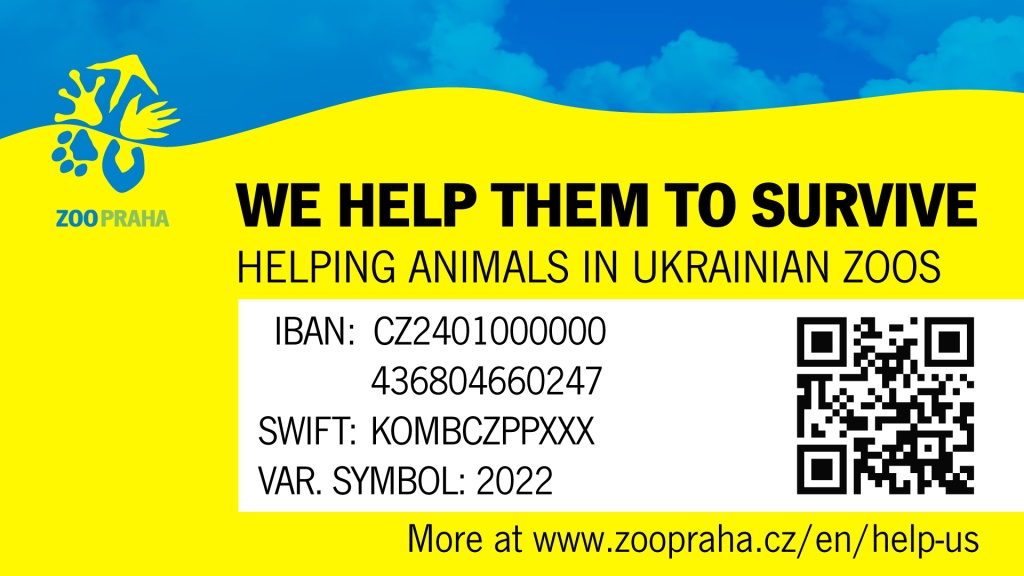 Full data for payments from abroad:
Account number: 43-6804660247
Bank code: 0100
IBAN No.:CZ2401000000436804660247
SWIFT: KOMBCZPPXXX
Account name: ZOOLOGICKÁ ZAHRADA – POMÁHÁME JIM PŘEŽÍT
Bank name: Komerční banka a.s.
Bank address: Na Příkopě 33 č.p. 969, Praha 1, 114 07
Beneficiary name: Zoologická zahrada hl. m. Prahy
Beneficiary address: U Trojského zámku 120/3, Praha 7, 171 00
Variable symbol: 2022
Remittance information: Ukraine
ПРАЗЬКИЙ ЗООПАРК СПІВЧУВАЄ УКРАЇНЦЯМ
Свою позицію щодо російської агресії Празький зоопарк уже визначив у четвер, 24 лютого, призупинивши своє членство в Євро-Азіатській регіональній асоціації зоопарків та акваріумів (ЕАРАЗА), яка базується в Москві та об'єднує переважно об'єкти колишнього східного блоку. Українські зоопарки вже раніше вийшли з цієї асоціації.
Крім того, Празький зоопарк готує допомогу для сімей українських працівників компаній, які працюють на його території. Коли це стане можливим, він також підтримуватиме українські зоопарки, які постраждали від російської агресії.
З понеділка, 28 лютого, ми також надаємо можливість відвідувати Празький зоопарк дітям та жінкам з України за 1 ч. крону. Можливо, це допоможе їм хоча б на час забути жахи війни... Для входу достатньо пред'явити дійсний паспорт України.
У цьому контексті ми також шукаємо гідів, які б могли проводити екскурсії українською для цих українських відвідувачів. Зацікавлених просимо звертатися за адресою електронної пошти doktorova@zoopraha.cz.