Success in Bulgaria. Boyana, the female Egyptian vulture from Prague Zoo, is a ray of hope for the future of her species

Prague Zoo's work in protecting Egyptian vultures in Bulgaria is bringing encouraging results. Today, the four-year-old female Bojana, who was reared at Zoo Prague in 2017 and was one of the first four chicks to be returned to the wild, using the delayed release method the following year, has successfully overcome all the odds and returned to Bulgaria this summer after a long stay in Africa. This means she's made a unique and important first in the record books - and now she is heading to Africa again.
"There are less than thirty pairs of Egyptian vultures left in Bulgaria," said Miroslav Bobek, Prague Zoo's director. "So, our role in protecting this species is crucial. My colleague, Antonín Vaidl, coordinates the European breeding programme for Egyptian vultures and Prague Zoo supplies birds to Bulgaria both for breeding and for release into the wild. On top of this, the Zoo finances a 'vulture restaurant', bought a car for the local conservationists, etc. The success with Bojana is a huge inspiration for us."
Bojana was one of the first four individuals to be released in the Eastern Rhodopes using the delayed release method.
"When using this method, the adolescent birds are placed in an aviary until the following spring before being released. This means they do not fly to Africa in the first year of their life, instead waiting until the second year, when they are much stronger and more experienced, and their survival rate increases from 30 to 75 percent," said Antonín Vaidl, the curator for birds, explaining the reasoning behind the method. "To our delight, this was confirmed with Bojana, who returned after her stay in Africa. She was the first ever vulture to be reared in captivity and then released into the Bulgarian wild to do so."
Egyptian vultures spend the first years of their lives in Africa. Bojana mainly stayed in Chad, but in total she has visited over two dozen countries in her lifetime. She returned to the Eastern Rhodopes on 4 May this year - and the Prague Zoo team followed her there in early September.
"Watching Bojana circling together with the other Egyptian vultures over the slopes near the feeding site was one of the most powerful experiences in my professional career," said Miroslav Bobek, describing his feelings. "As Bojana soared majestically, it was a dramatic answer to the question why we put so much time and effort into our work."
As we write, Bojana has already set off on her way to Africa again. She is kept company by Pantalej, a male who was also released in 2018 and returned to Bulgaria this year, about three weeks after Bojana.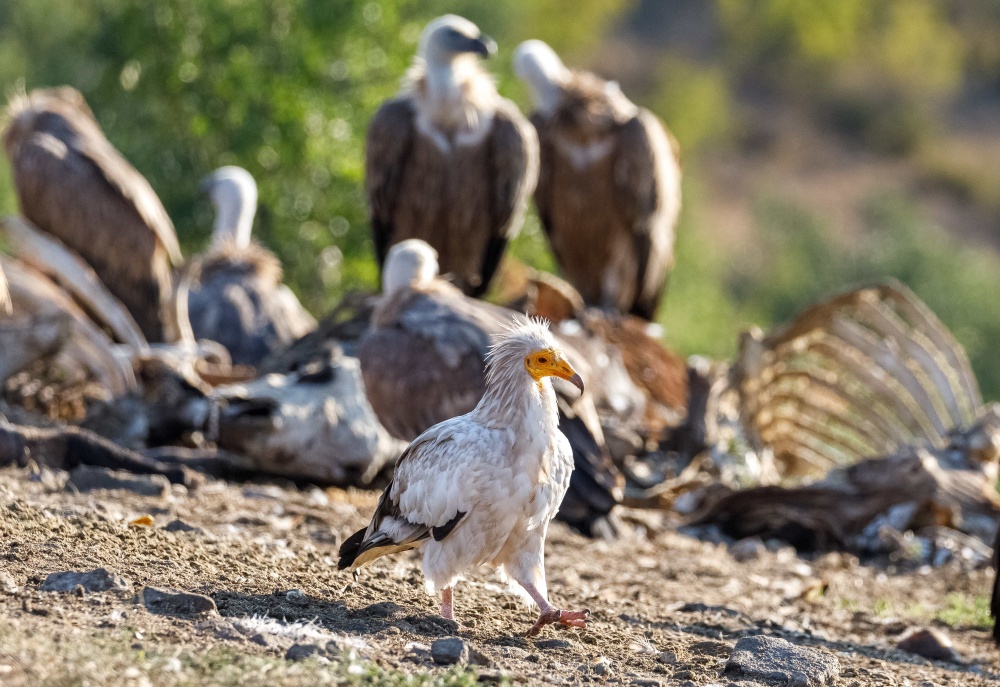 One of the major reasons for the decline in Egyptian vultures in the wild is the lack of safe food, i.e., food that has not been poisoned as a bait or has not been contaminated with agrochemicals or veterinary products. Vulture "restaurants" solve this problem, at least to some extent - that is why our zoo finances one of them. Author: Miroslav Bobek, Prague Zoo.