Prague zoo introduces its visitors to the rara baby short-beaked echidna

For the first time since hatching, visitors will have the opportunity to observe the first ever short-beaked echidna puggle to be bred at Prague Zoo. The little echidna now weighs 770 grams, and the next weighing will be open to the public. The puggle is 143 days old, is doing very well and is being regularly nursed by its mother.
"It is very complicated to raise them and we still have some important months ahead of us. The baby is still dependent on its mother and will be until it's nine months old, at roughly seven months it will be able to take solid food. These transitions will be the most critical period for us," said Miroslav Bobek, director of Prague Zoo. "We decided to make it possible for visitors to observe the puggle during this period, even though it is still housed in the rear facilities. The regular weighing will now take place in the indoor exhibit in Darwin Crater. This is a unique opportunity to see the echidna. We also have an adult pair in the exhibition, but due to their nocturnal lifestyle, they are rarely seen."
In the last century, only one zoo in the whole of Europe managed to breed echidnas, so far in this century three zoos have bred them.
"Compared to our colleagues from other zoos, we have been able to keep tabs on the puggle ever since it hatched thanks to cameras placed in the burrow. At other zoos they only monitored breeding from a few weeks after hatching, so for us this is completely new knowledge about the behaviour of both the puggle and its mother," said keeper David Vala.
Dates when visitors can watch the echidna weighing - always at 14:30 in Darwin Crater: August 29th, September 5th, September 12th, September 22nd and September 26th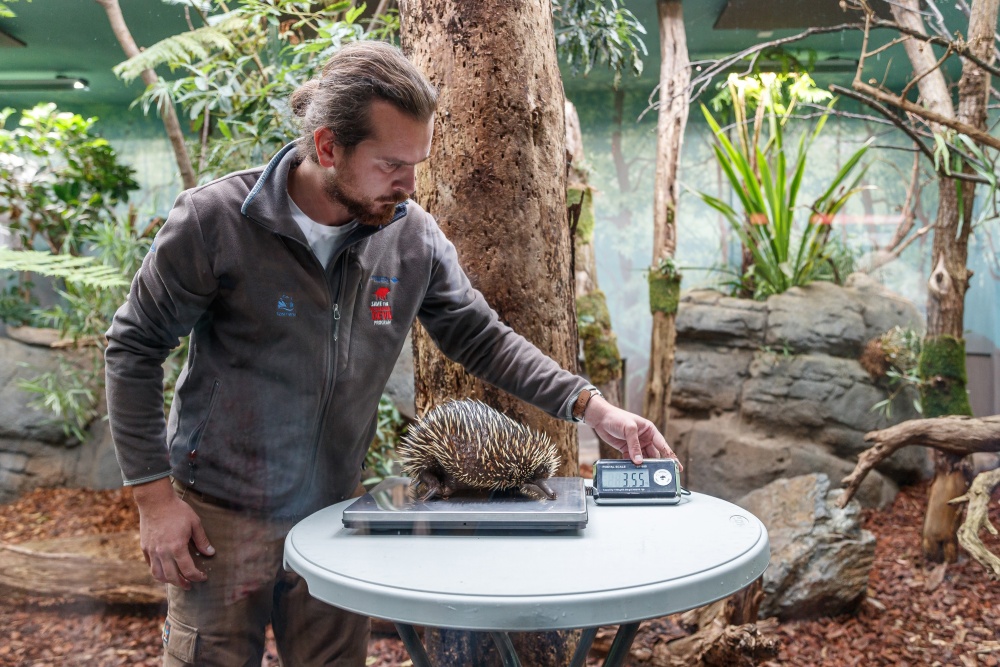 The puggle and its parents are kept in the rear facilities. The photo shows the adult male and father of the puggle during the weighing with their keeper David Vala. Author: Václav Šilha, Prague Zoo