The short beaked-echidna puggle has its first spines and is 101 days old

The first ever short-beaked echidna puggle at Prague Zoo is gaining weight fast. After the last weighing yesterday, it is already more than four hundred grams. For the first time ever, the keepers can monitor the puggle's development since it hatched, thanks to cameras placed in the burrow.
"This is the first puggle in our zoo and we have observed its every move since day one. Other zoos were only able to monitor how they were reared after a few weeks after hatching, so we have a lot of new knowledge about the behaviour of mother and offspring thanks to seeing what's happening on the cameras," said keeper David Vala.
In the last century, only one zoo in the whole of Europe managed to breed the echidna. In this century, three zoos, in all, have bred them. The little echidna is now 19 centimetres long and has put on 405 grams since hatching. As an adult, it can weigh between two and five kilograms.
"We still have some important months ahead of us. The cub is doing great so far, and the first spines are already visible. It is getting more active, and its mother is taking very good care of it. She regularly suckles it once every two to three days," said keeper David Vala, who monitors the puggle on a daily basis.
The echidna and its mother are in the rear facilities. But visitors can observe a second pair of echidnas in Darwin Crater. And there's much more to see in the Australian exhibit. These days, the Tasmanian devil enclosure resembles the real Darwin Crater in Tasmania thanks to the mature plants - visitors can watch the four-member group not only in the early evening, but also during the day. There are also goslings from the Cape Barren geese on display. Whilst exploring Darwin Crater, visitors should definitely not miss a stop at the long-nosed poteroo, led by Prašivka (Dusty) one of the oldest females in captivity, and they can enjoy three joeys in the walk-through enclosure for eastern grey kangaroos and red-necked wallabies.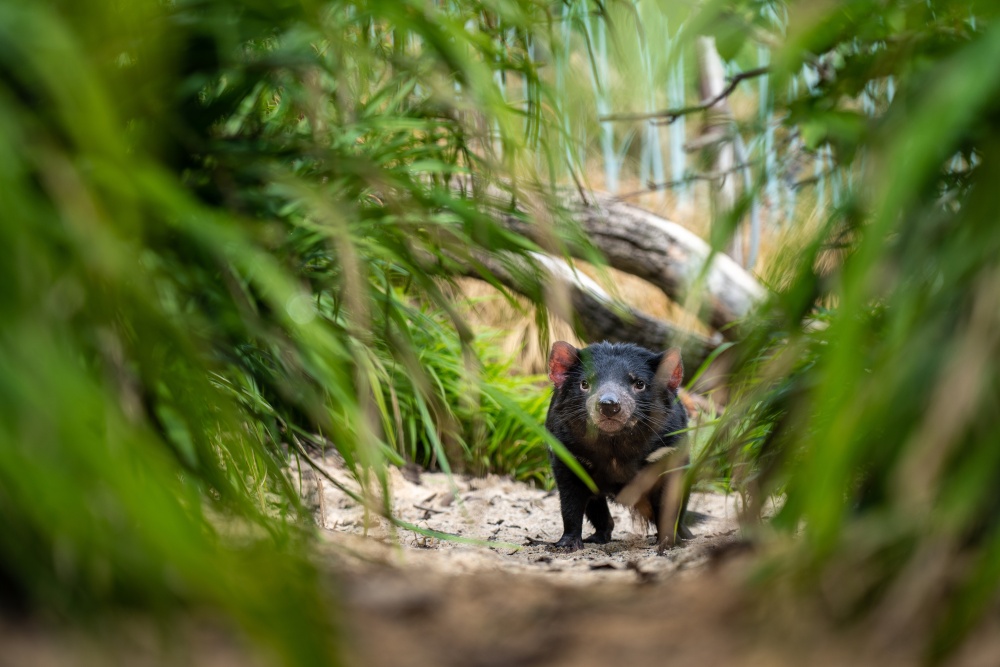 The Tasmanian devils' run looks like the real Darwin Crater in Tasmania. Visitors can see the whole group - Sumac, Nutmeg, Aniseed and Laurel – as they scamper among the mature plants during the day. Pictured here is the female Aniseed. Author: Oliver Le Que, Prague Zoo.