Prixi, Prague´s female European bison leaves for the Caucasus

Today Prixi, the two-year-old female European bison, left for Tierpark Berlin, Germany, where she will spend several months getting ready for the long journey to Azerbaijan's Shahdag National Park. She will be transported there as part of an international conservation project that Prague Zoo takes part in. She will become the eighth bison from Prague Zoo to be released into the wild.
"This is our second bison calf that will head for the Caucasus," said Miroslav Bobek, Prague Zoo's Director. "In 2019, Prixi's older sister, Prťka, also went to Azerbaijan. Both females will thus become founders of the reintroduced local bison population."
European bison became extinct in the Caucasus in the mid-1920s. The project for their reintroduction is supported by the World Wildlife Fund (WWF), the Ministry of Ecology and Natural Resources of the Republic of Azerbaijan and the European Association of Zoos and Aquariums (EAZA), of which Prague Zoo is a member.
Prixi started her long journey to the Caucasus this morning. She will first spend several months in Germany's Tierpark Berlin, which is coordinating the entire transport and is gathering the bison for transport. Afterwards, she and other bison from various European zoos will be transported to Azerbaijan, where she will be put in an acclimatization enclosure in preparation for her release into the Shahdag National Park. This is the largest national park in the Caucasus Mountains, covering 130,000 hectares.
"Prixi was chosen for reintroduction to Azerbaijan by the coordinator of the European Breeding Programme (EEP)," said Jaroslav Šimek, Prague Zoo's Deputy Director for Zoology. "The project's aim is to establish a healthy and viable bison population in their original habitat."
European bison breeding at Prague Zoo dates to 1948, when the first purebred male, Platan, arrived at the zoo. This meant Prague Zoo was the first Czech zoo to breed bison. Since then, it has bred almost 100 calves, the last one being born two weeks ago. Moreover, Prague Zoo is planning to build a breeding station in Dolní Počernice as part of the "Bison in Prague" project, the main goal of which is to create a large natural enclosure to expand breeding while, at the same time, revitalizing the area and increasing local biodiversity.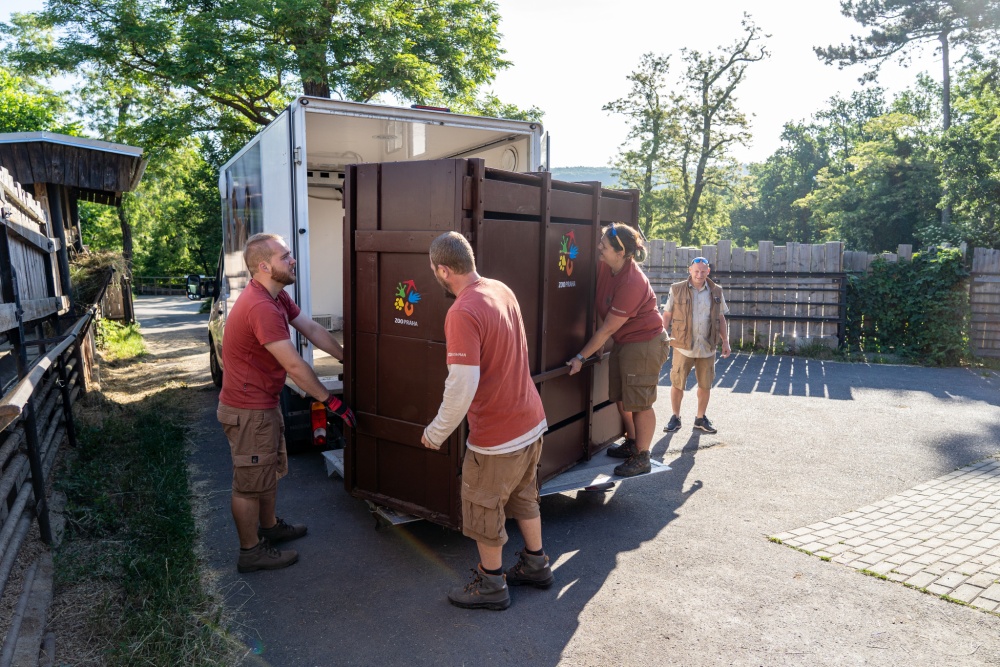 Prixi , a female European bison, leaves for the Caucasus, where she is to become one of the founders of the newly restored bison population. Photo: Oliver Le Que, Zoo Praha