Work continues on building the new gorilla pavilion at the Prague Zoo

When finished, the western lowland gorillas' new home will be the largest exhibition at Prague Zoo. Since autumn 2019, this 2,500m2 pavilion has been rising in the space next to the giraffe enclosure in the upper part of the grounds. There will also be almost 3,000m2 for outdoor enclosures. Currently, the opening is set for autumn 2022.
"The June 2013 flood inundated the current Gorilla Pavilion for a second time, and it is impossible to give it sufficient protection from a flood wave. During a flood, the gorillas would have to move up into the flood tower and from there their evacuation would be extremely risky, if not impossible," said Miroslav Bobek, Prague Zoo's director, explaining the main reasons for building a new pavilion away from the flood zone. "The new pavilion will be a state-of-the-art facility built to standards that are even above those of the European breeding programme. Naturally, our male, Richard, will also move there. Visitors to the pavilion will be transported to Central Africa - their journey will begin in the Cameroonian countryside and they will gradually find themselves in a rainforest with a view of the gorillas."
A completely new entrance to the zoo will also be built next to the pavilion. The basic construction has already been completed and now all the internal technical equipment for the expositions, background facilities and visitor area is being installed.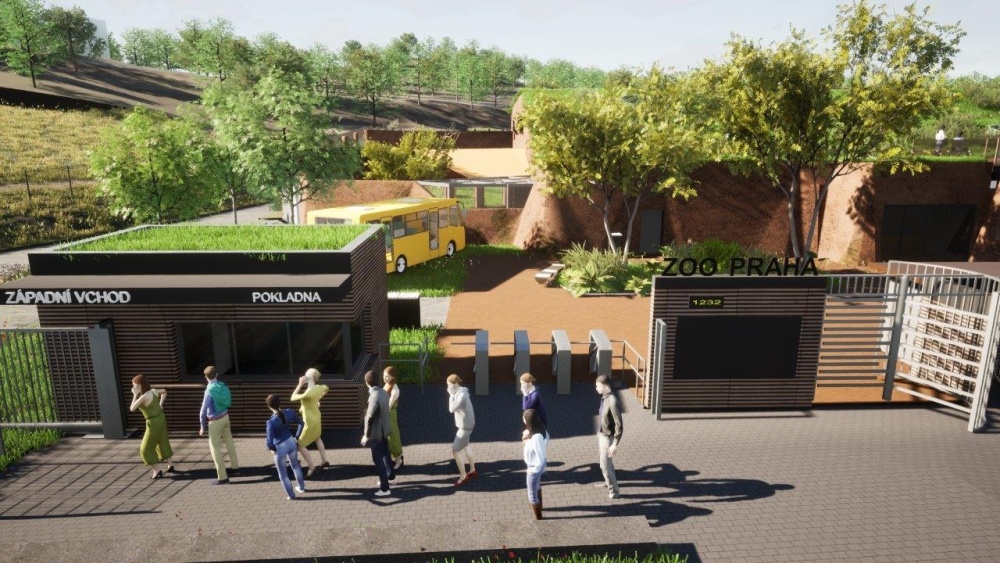 There will also be another entrance to Prague Zoo next to the new gorilla pavilion. Autor: Visualization, Prague Zoo
"One of the main missions of zoos is not simply to make their visitors' leisure time more enjoyable whilst informing them about the animals, it is more and more crucial to protect endangered animal species. Prague Zoo has been highly successful in protecting the western lowland gorillas in their homeland. So, I am very pleased that we have managed to build a new gorilla pavilion outside the flood zone in a safe part of the upper garden. It will be completed over the next year," said Petr Hlubuček, Prague's Deputy Mayor.
"The group's composition is always decided upon by the coordinator of the European Breeding Programme (EEP). We have been in discussions with them about all the necessary details for relocating the gorillas ever since we started planning the pavilion," said Pavel Brandl, curator of mammal breeding. "We have been getting the animals ready for the move since last year. The greatest support for the gorillas in their new environment will be the keepers, and the entire team will move to the new pavilion."
About the new gorilla pavilion
Information about the building:
built-up area of the pavilion – 2,500 m2
floor space of the pavilion – 21,000 m2
area of the indoor exhibition for the breeding group - 465 m2
area of the outdoor exhibition for the breeding group – 2,570 m2
area of the indoor exhibition for the non-breeding group - 120 m2
area of the outdoor exhibition of the non-breeding group - 356 m2
The animal species in the pavilion's main and accompanying expositions:
western lowland gorilla
mantled guereza
De Brazza's monkey
Gambian pouched rat
Egyptian fruit bat
Gabon talapoin
African brush-tailed porcupine
Interesting plant species in the pavilion:
Ficus lyrata – the canopy in the interior
Platycerium bifurcatum – an epiphyte in the interior
Clerodendron thomsoniae – a climbing plant in the interior
Gymnocladus dioicus – the outdoor canopy
Magnolia grandiflora - the outdoor canopy
Decaisnea fargesii – the outdoor shrub layer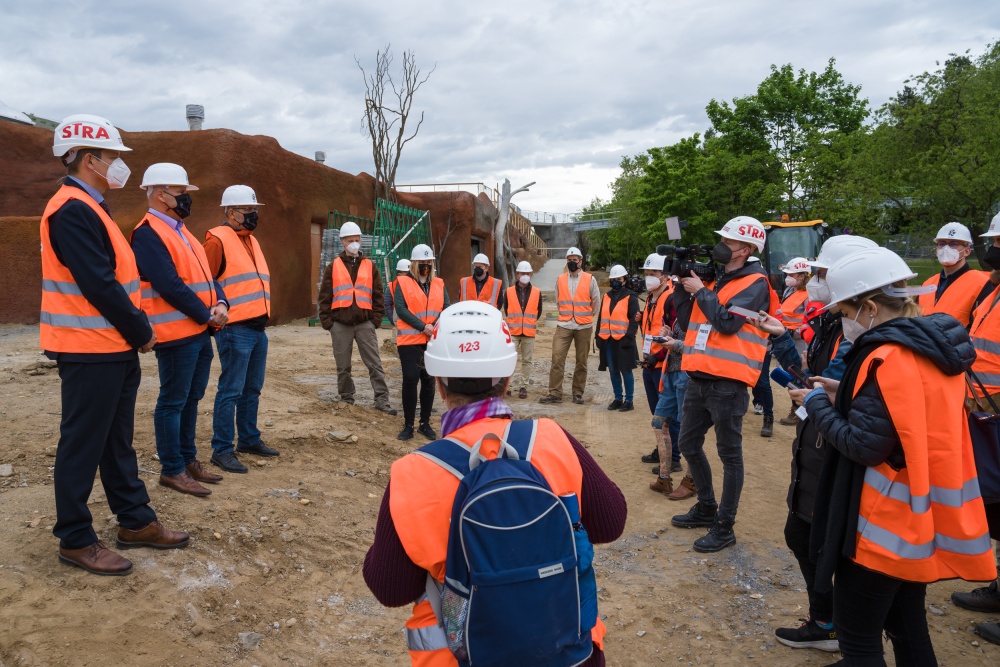 Prague Zoo's new gorilla pavilion is set to be opened in autumn 2022. Author: Petr Hamerník, Prague Zoo