Przewalski's horses are romping across Dívčí hrady

On April 19th, 2021, the almost twenty-hectare plain at Prague's Dívčí hrady became the new home to Przewalski's horses. The Prague Zoo staff transported the first four mares from the breeding station in Dolní Dobřejov. They will be joined by a stallion in due time.
"The purpose of this project is not only to regenerate this historic site, but also to use the wild horses to graze the grass, thus contributing to the return of the original communities of plants and animals," said Miroslav Bobek, Prague Zoo's director. "It is also important for us that Prague's citizens will be able to see Przewalski's horses at Dívčí hrady while we are rebuilding their stables and enclosures at the zoo."
The first inhabitants at Dívčí hrady are the mares Khamiina, Xicara, Lana and Gruhne (see below for more details). They were chosen so that they guaranteed the greatest possible genetic diversity for the future reproduction of this group of Przewalski's horses. Visitors will be able to observe them from three viewpoints with barrier-free access. One of them is raised, and thus not only provides a unique view of the horses themselves, but also of the Prague panorama.
"The mission of every zoo is not only to provide a pleasant way for its visitors to spend their leisure time, but, above all, to protect endangered species. Our zoo has been involved in the conservation of the Przewalski's horse for a long time. We've even managed to return them to their original homeland in Mongolia," describes Petr Hlubuček, Deputy Mayor of the City of Prague. "I am glad that the unused land at Dívčí hrady will be used for our herd of Převalský's horses and to conserve this endangered species."
The new area for rearing Przewalski's horses is an important contribution to their management in the framework of the EAZA Ex situ Programme, which has been tasked with maintaining a high-quality and viable population of Przewalski's horses in human care. Apart from being an insurance for their existence, they are also a source for eventual reintroduction projects. Such projects are one of the most tangible examples of how irreplaceable zoos are in the efforts to preserve the biodiversity of our planet.
Likewise, it is also an important conservation research project to assess the potential of using the ecological services provided by Przewalski's horses to restore and maintain rich steppe communities as well as to construct biocorridors.
The entire enclosure will be monitored by zoo staff and a camera system. In addition, there is an electric fence inside, which prevents the horses from getting close to the actual fence.
"Our greatest worry is that people won't restrain themselves from feeding the horses. I really must say to everyone, please don't do this! You can cause them serious health problems or even a painful death," warns Miroslav Bobek. "Not even a piece of bread or a carrot. Don't give them anything at all."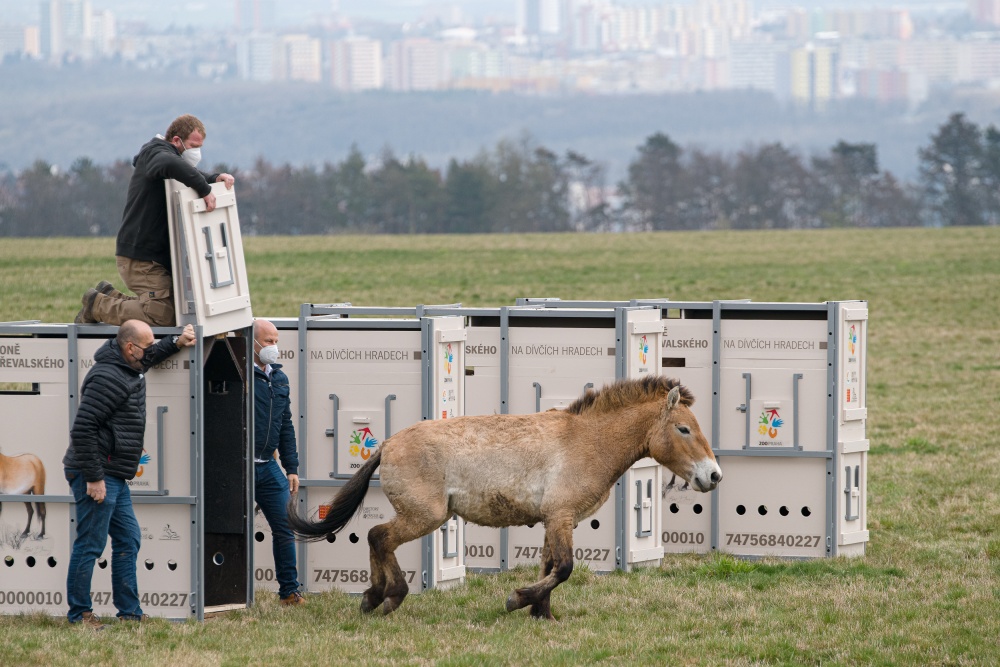 The latest residents at Dívčí hrady
Lana was born in August 2016 in Germany's Kölner Zoo and came to Dolní Dobřejov three years ago.
Khamiina is a four-year-old mare from Tierpark Berlin in Germany. She has been at Dolní Dobřejov since 2019.
Gruhne comes from the Reserve d'Animaux Sauvage in Belgium, where she was born in July 2017. Two years later she left this place to come to Prague Zoo's breeding station.
Xicara was born here at Prague Zoo in June 2018.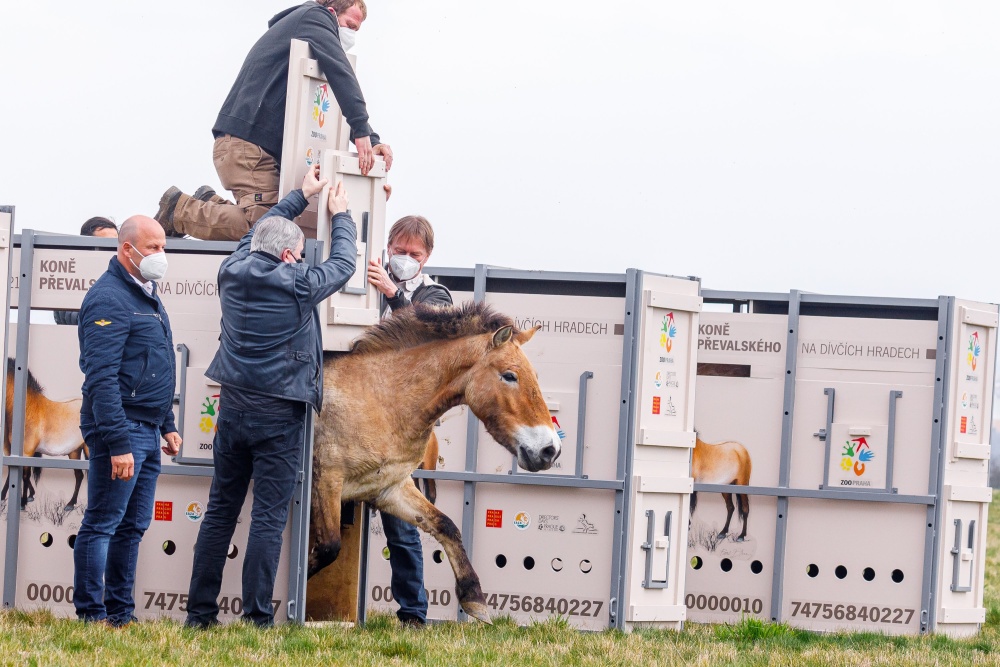 Return of the Wild Horses
This year is the tenth anniversary of the first transport of Przewalski's horses from Prague to western Mongolia. The Return of the Wild Horses programs have taken place nine times so far, and are carried out with the help of a CASA army aircraft. A total of 34 Przewalski's horses have been transported to their homeland so far. Some of them even have grandchildren in the wild. Last year, the planned transport did not take place due to the covid-19 pandemic, and it will be the same this year. However, Prague Zoo has started preparing a new project for reintroducing Przewalski's horses to eastern Mongolia.
You too can help support the Return of the Wild Horses:
By transferring an amount of your choosing to the We Help Them to Survive collection account (account #: 43–680 466 0247/0100).
By sending a one-off donor SMS in the form of "DMS OHROZENEDRUHY 30" to the number 87 777 (the SMS costs CZK 30, of which CZK 29 goes to the project). It is also possible to send CZK 60 and CZK 90 - in that case enter 60 or 90 in the DMS instead of the number 30, depending on the amount chosen.
By buying souvenirs at Prague Zoo's e-shop in the section called We Help Them to Survive.
And, last but not least, of course, by paying a visit to Prague Zoo. The Przewalski's horse paddock can be found at the top station of the cable car.