The Oldest Record Holders in Prague Zoo

When I wrote last week about the aardvark female Pieta, who became the oldest representative of her species in the world, also the oldest historically, I should not forget some other representatives of the oldest animals also living in our zoo.
But before I start listing these record holders, I would like to say that we can naturally proceed only from what is well documented. At the same time, we know a little about the age which animals reach in the wild. Also, with animals kept in human care we are facing a deficit of information or hearsay and unverifiable data.
And now to the point:
We can start at the Walk of Fame at the entrance to the zoo, where Cuban iguana Pepíno also has his footprint. After all, of the 26 animal personalities, represented here, only Pepíno and Humboldt penguin Karlík are still alive. Pepíno originates from the wild; he came to Prague Zoo in 1992, became the father of the first young of his species here and is the founder of the famous Prague breeding. Currently he is at least 41 years old, therefore he is the oldest known Cuban iguana ever. But I must mention that a male of his close relative blue iguana called Godzilla reached estimated age of 69 years in American Gladys Porter Zoo.
Another reptile record holder, again in the world scale and historically, is a male Cuban boa, who is 33 years old. The second oldest Cuban boa also lives in our zoo. It is a male, who arrived form Bristol Zoo, which was closed last year.
We could find three similar record holders among birds, but this is due to their being bred only rarely in other places. So, let's be content only with a list: New Guinea bronzewing – 12 years, large fig parrot – 18 years and barred laughingthrush – 9 years.
It seems probable that we also have a record holder among mammals. According to the data available it should be the male of moustached tamarin Jinx, who already exceeded the age of 22 years.
With great regret I must say that my favourite female of long-nose potoroo Scabbers will no longer be included among the abovementioned Mohicans. Although in the wild the potoroos usually reach five or six, rarely ten years, Scabbers celebrated her 14th birthday on May 30 this year! However, the oldest long-nose potoroo in human care, a male, reached 15 years and one month in the Australian Taronga Zoo. I hoped that our Scabbers would surpass him. Unfortunately, she died on August 8.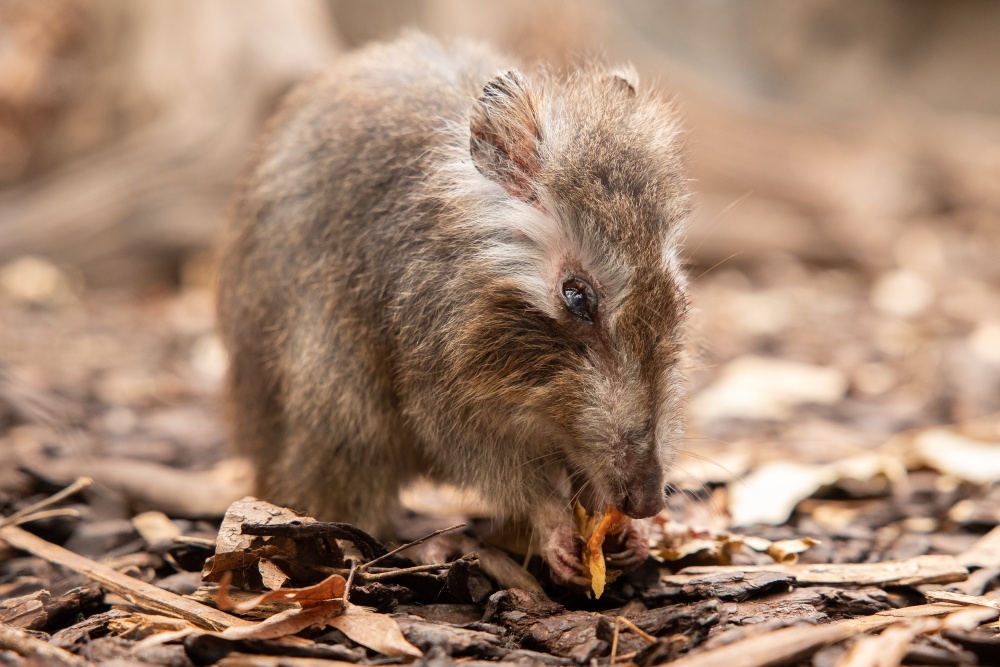 Our long-nose potoroos eat mushrooms, therefore for her 14th birthday I brought Scabbers a piece of chicken mushroom. Photo Miroslav Bobek