A critically endangered species for dinner

It was before "corona". While on holiday in Palolem, in the Indian state of Goa, we went for a walk along the beach after dinner. Fish and seafood vendors had set up simple stalls. I photographed some northern red snappers and several barracudas, and then I was surprised to see that two sharks barely forty centimetres long lay on one of the trays.
I've been sensitive to the plight of sharks for some time now. I can still vividly picture an infographic with several human silhouettes and 11,416 shark icons below them. The explanatory note then states that this is the number of human shark attack victims per year compared to the number of sharks killed by humans in a single hour. After ruling the seas and oceans for nearly 450 million years, it is no wonder that the bell is tolling for sharks.
I identified that particular pair of sharks as milk sharks, which, fortunately so far, are not very rare. However, the beach vendors offered many more small sharks of various species. Among them was this hammerhead.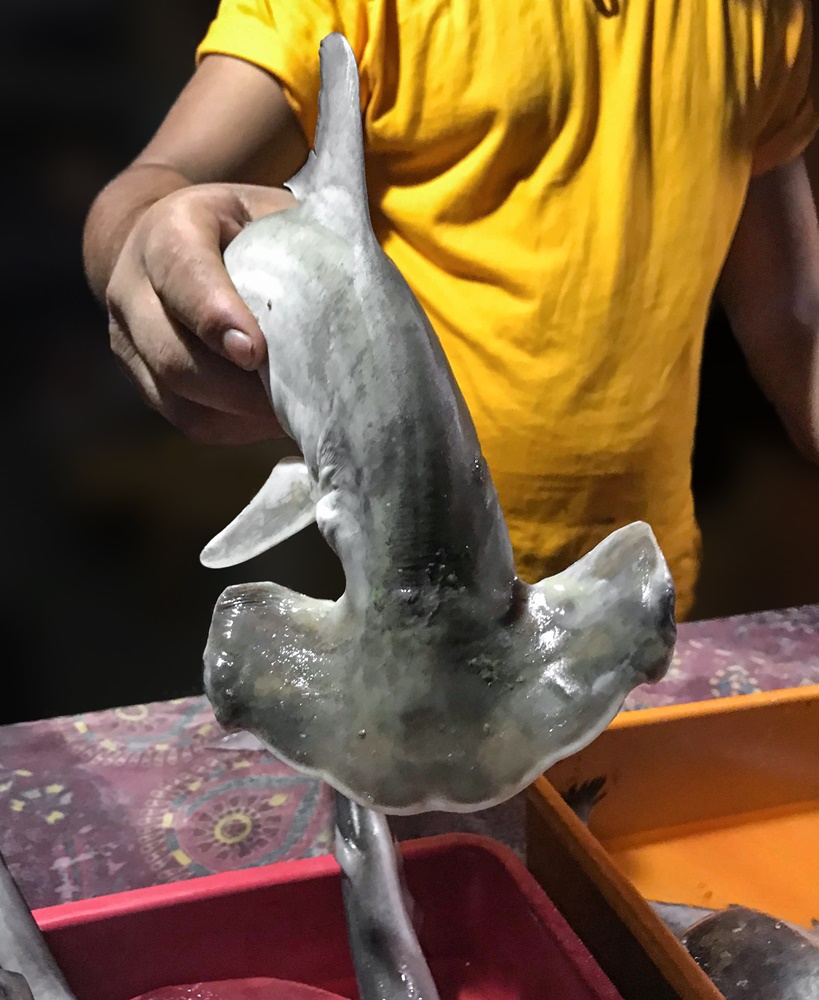 It is a scalloped hammerhead, which grows to a length of over four metres and has been on the IUCN Red List of Threatened Species for many years. In 2000, it was listed in the "least concern" category, in 2007 in the "endangered" category, in 2015 the Red List's creators stated that there was a lack of data on it, and finally two years ago it was placed in the highest category, a critically endangered species. The local vendors on the beach in Palolem offered it to us for dinner. And if that weren't enough: over the following days, I saw several more critically endangered sharks offered by various fishmongers.
Sure, there are many more endangered species of cartilaginous and bony fish, but this hammerhead is targeted for mass fishing because of its fins, highly sought after by the Chinese, and its numbers are declining very rapidly. At the same time, however, it is also a victim of "collateral damage" during commercial and industrial fishing. In some parts of the Atlantic, its populations have reportedly declined by more than 95 % in the last 30 years. Of course, these are problems at a completely different level than stalls on a single beach.
It is the plundering of the seas and oceans, especially by industrial and illegal fishing, which is leading to a significant decline in the numbers of many species of marine organisms, that will be highlighted by the European Association of Zoos and Aquariums (EAZA) in their campaign entitled "Which Fish?". The zoo will launch its contribution on Monday, to celebrate World Oceans Day, and during the event, we will pay full attention to sharks and other endangered fish.