Liberating our Anna from "Turkish captivity"

Last year in June Anna, a female Egyptian vulture, was hatched in our zoo. In August, she and another young vulture were transported to the eastern Rhodope Mountains. There, the Bulgarian conservationists placed them in an artificial nest on a high rock cliff to get used to living in freedom. After three weeks, Anna left this artificial nest and soon after flew off to the African wintering grounds. It was at this moment that an exciting and sometimes unclear chapter of her story began to be written, which only reached its partial happy ending now – that being her liberation from Turkish "captivity".
In September of last year, Anna surprised everyone with the speed of her progress. Thanks to a satellite transmitter on her back, we watched as she crossed the Marmara Sea and proceeded through Turkey to the south. In contrast to what is common in other young vultures, she didn't stop anywhere and, on average, covered 190 kilometres a day. In nine days, she'd managed to cover 1700 kilometres. Then, however, she was stopped by heavy rain and wind near the city of Mersin in southern Turkey. She stayed in the same place for three days. Quite natural, given the bad weather. But even after the sun came out and the wind had stopped, Anna couldn't find the resolve to continue the journey. Concern about her fate grew every hour. Fortunately, at the time a Turkish-Bulgarian team of ornithologists was active not far from Mersin, and their members, filled with trepidation that they would find her dead, set off for the location. They drove by car as far as they could and then walked along a sheep trail. They finally found Anna. She was in a puddle of water. Alive, but completely drenched, exhausted and emaciated to the bone. Scales showed that she weighed under a kilo and a half, roughly five hundred grams less than she should have. Something was obviously wrong with her.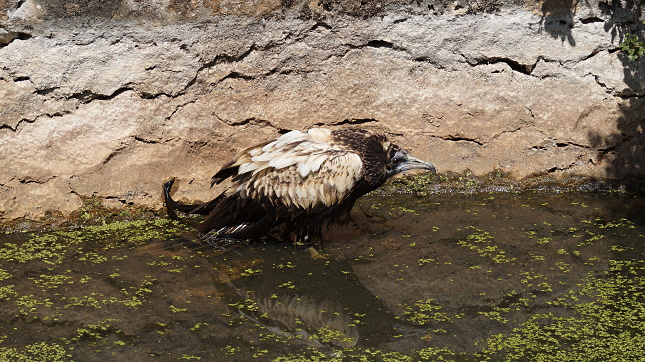 Exhausted Anna in a puddle of water in southern Turkey. Photo: Volen Arkumarev
But it was not hopeless. After three days of human care she had gained nearly a quarter of a kilo and began fighting with anyone who tried to touch her food. It was then decided that it would be best to transport her back to Europe and to get her to breed, so that at least her offspring could return to a life of freedom. But, as the Bulgarian conservationists wrote, this decision only started the real nightmare.
The struggle with Turkish bureaucracy took months and months. The endless correspondence on all sides, preparation and approval of documents, explanations all required extraordinary patience and nerves of steel. Meanwhile, Anna was being moved from one place to another by the Turkish authorities and disappeared. Finally, thanks to the cooperation of several organizations and individuals in Turkey and Bulgaria, the paperwork was resolved and now - after a year in "Turkish captivity" - Anna is in a Bulgarian breeding station in Stara Zagora. Right now, preparations are underway to transport her back to Prague Zoo. It might not be a true Hollywood-style happy ending, but in the real world we couldn't have expected a better conclusion to this chapter of Anna's story.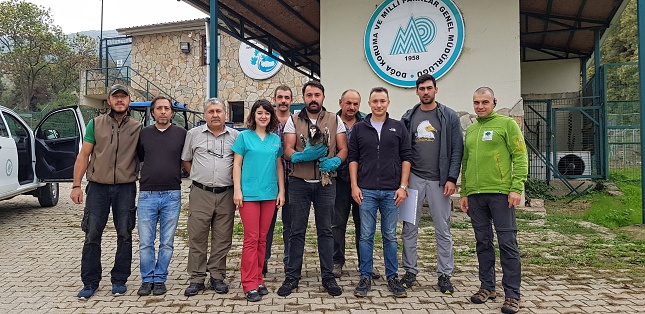 Finally! Anna before returning from Turkey to Bulgaria. Photo by Ivaylo Klisurov
Psáno pro MF Dnes