Tiko the spider monkey is a year old. The young, critically endangered species is discovering the world

It is twelve months to the day, since the birth of a Geoffroy's spider monkey baby at Prague Zoo. The little primate, who was later named Tiko, is doing well and frolics for days in front of visitors to the Monkey Islands. At the same time, he is one of Prague Zoo's most important additions. The critically endangered subspecies of these monkeys has only bred successfully in one other institution in Europe.
"Tiko has his first birthday which makes us very happy indeed. He is still drinking breast milk, but he is starting to try vegetables. He is bravely venturing further and further away from his mother, Talula. However, as soon as he gets a fright, he gives a squeak, his mother runs over to save him, and he cuddles her," said Martin Vojáček, the head keeper for primates.
Spider monkey young are closely attached to their mothers, as are other New World primates such as squirrel monkeys or capuchin monkeys. Unlike Old World monkeys – guerezas or talapoins – where several "aunties" in the troop willingly take care of the young, visitors to the zoo will hardly ever see little Tiko away from Talula's side.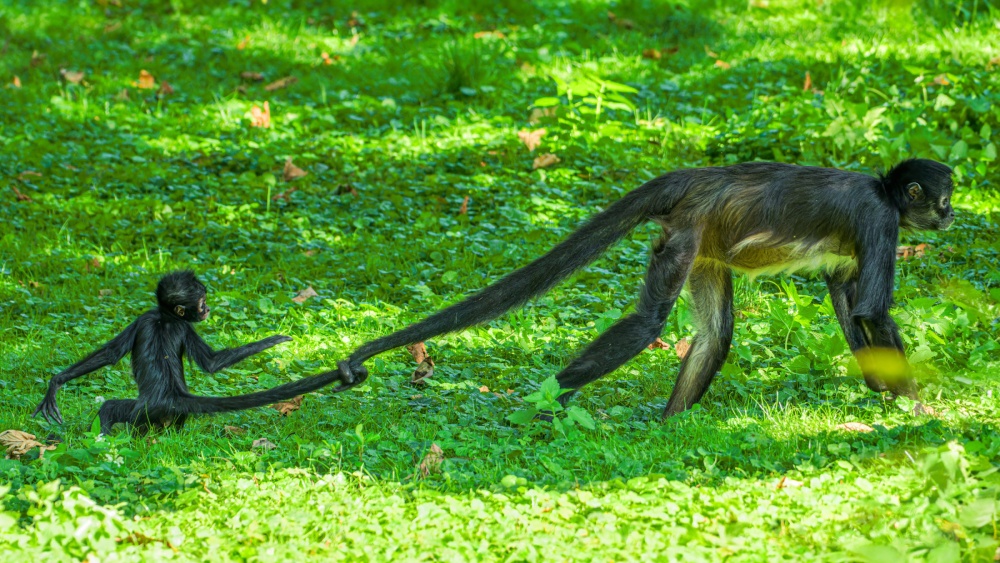 Not only does Tiko use his long tail as a climber's belay rope when climbing in branches, he also uses it to keep in contact with his mother Talula – so, in this case, it's more like a baby monitor. Photo Petr Hamerník, Prague Zoo
"People can watch the little spider monkey's fun and games at almost any time. Morning and early afternoon are best, but due to their daily activity and general drive, there is virtually always something going on with the island's spider monkeys. This makes them a very attractive species for visitors," added Martin Vojáček.
Currently, the exhibit has a five-member troop. Alongside Tiko and his parents - the dominant pair made up of the male Benji and the female Talula – there is Tiko's three-year-old sister, Tianna, and an unrelated female, Petula. Prague Zoo has had the most success in breeding this critically endangered subspecies in Europe - a baby has been born here regularly nearly every three years since 2007, with breeding beginning in 2005.
Spider monkeys generally stand out for their prehensile tails that are more like a fifth limb. This has led to them being called spiders. Geoffroy's spider monkey is a tree-dwelling primate, and it mainly suffers from habitat loss due to deforestation in its homeland. According to estimates, their population has declined by an alarming four-fifths in the last three generations.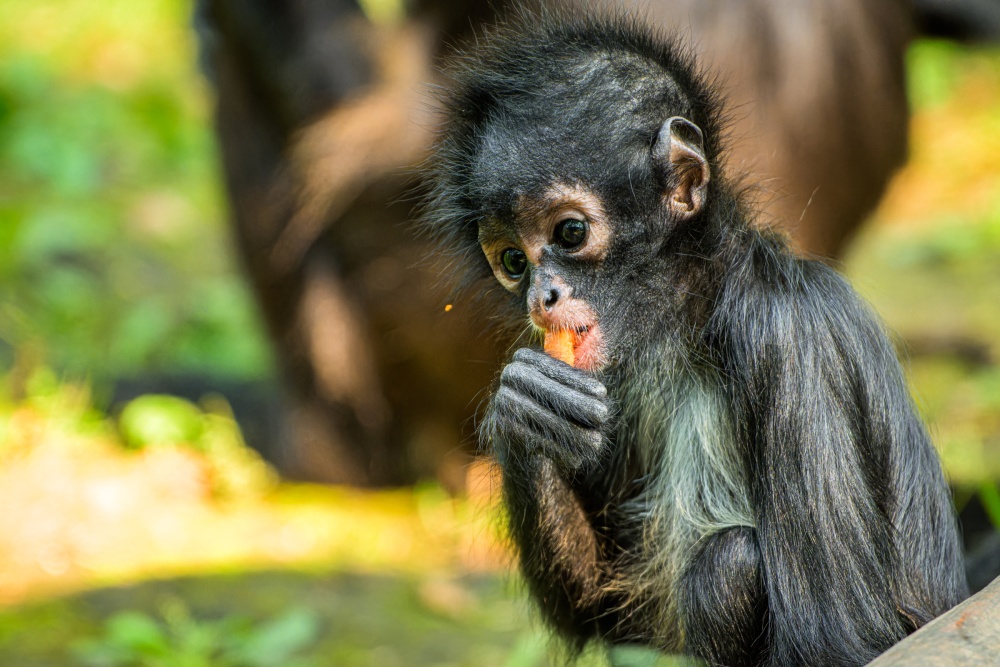 Tiko is already trying solid food. The spider monkeys receive vegetables such as carrots, spinach, tomatoes or cucumbers, however, unlike most of the other primates, they also regularly get fruit - apples, pears or peaches. Photo Petr Hamerník, Prague Zoo