The Prague Devils help the Tasmanian devils

Prague Zoo has presented its latest project to support the Save the Tasmanian Devil Appeal and the development of a vaccine against Devil Facial Tumour, a cancer that threatens Tasmanian devils in the wild. The campaign involves new experiential programmes that visitors can look forward to, including evening devil feedings with commentary by the keeper and special devil merchandise. The campaign is accompanied by drawings of all four of Prague Zoo's Tasmanian devils - Aniseed, Laurel, Nutmeg and Sumac.
"Since the end of the last century, the endemic devil population in Tasmania has been decimated by both infectious facial cancer and collisions with cars. For some time now, Prague Zoo has been contributing to the breeding of healthy individuals on a small, isolated island off Tasmania. What's more, Photographer we are the second zoo in Europe to have our own small group of devils," said Miroslav Bobek, Prague Zoo's director. "We want to draw attention to this species' need for conservation and to inform the public about this incredibly interesting animal. We are helping to finance population monitoring as well as the experts involved in preserving this 'Noah's Ark'."
The Tasmanian devils came to Zoo Prague directly from Tasmania with the significant help of Australian breeder David Schaap, from the Save the Tasmanian Devil Appeal.
"Here at Prague Zoo we have three females and one male. They come from a breeding station in Tasmania. They were born in a year when devils were named after spices, hence their names: Aniseed, Nutmeg, Laurel and Sumac," explained their keeper, David Vala.
The entire campaign and its associated merchandise was inspired by the names of the Prague devils. Part of the proceeds from its sale will go to support the Save the Tasmanian Devil Appeal. The zoo's souvenir shop and its e-shop are selling original stickers for spices, recipe books, T-shirts and aprons. What's more, visitors can also buy Devil's Beer made using Tasmanian hops at the Raven Brewery in Pilsen.
Vít Kahle, Marketing Advisor at Prague Zoo, described the story behind creating the special beer set. "The idea of developing our own beer with devil motifs and using Tasmanian hops and a charitable edge completely entranced us for a while. Through David Schaap, the main coordinator of Tasmanian devil breeding, we got in contact with The University of Tasmania and agreed to work together."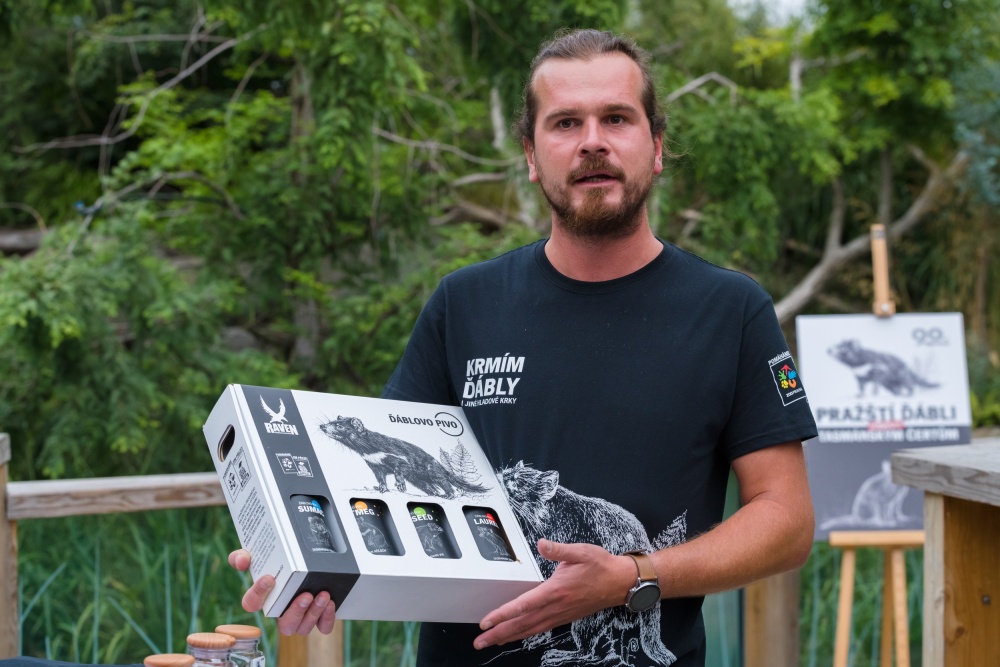 Along with the new Devil's Merchandise, the e-shop and souvenir shops also have a special Devil's Beer made from Tasmanian hops that fans of Prague Zoo can purchase. Each beer in the set is inspired by one of the devils at Prague Zoo. In the photo, keeper David Vala. Photographer: Petr Hamerník, Prague Zoo
In addition to souvenirs with drawings by illustrator Kateřina Hrachovcová and the amber nectar, Prague Zoo's fans can also purchase new experiential programmes.
"We have prepared an evening tour of Darwin Crater to introduce visitors to the exhibition and its animals after closing time. As an added bonus, they will get to watch an evening feeding of our group of devils. And for those who would like to try their hand at being a keeper, we now have that option too," added David Vala, the keeper at Darwin Crater.
A Devilish Day for visitors
Prague Zoo will have a Devilish Day on Sunday, August 22nd, where it will present its new merchandise to visitors. An accompanying programme has also been prepared.
From 9.00 to 12.00 visitors can bring their own hand-made devil to the Education Centre near the main entrance. Any technique can be used to make it. Each creation submitted will be rewarded with a small gift and the best ones will be awarded souvenir packs.
Kids and adults alike can test their speed at the running radar between 10.00 and 12.00. Each runner will receive a small prize. The fastest of the three competition categories will be rewarded with souvenirs and a box of Devil's Beer.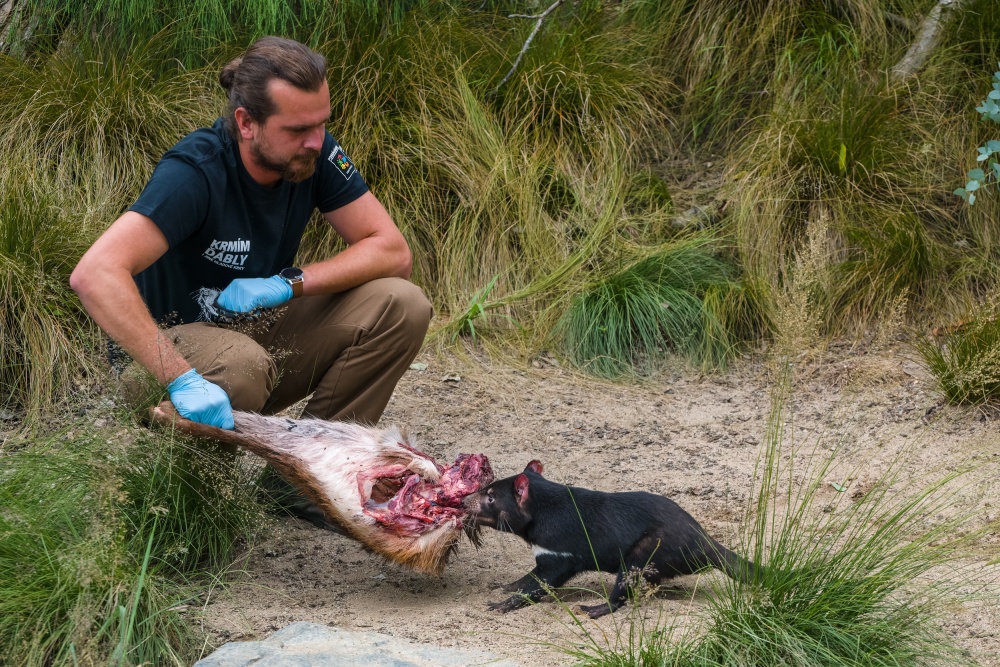 As part of the Prague Imps Help the Tasmanian Devils campaign, Prague Zoo offers visitors an evening feeding experience with a commentary from their keeper David Vala. Author: Petr Hamerník, Prague Zoo.