Giant Tortoises' vociferous courtship at Prague Zoo

For the first time since last October, the giant tortoises have returned to their outdoor enclosure. Finally, visitors to Prague Zoo can observe these popular reptiles, as their indoor exposition in the Giant Tortoise Pavilion is still closed to the public. According to the keepers, the tortoises are very excited about opening up the grass enclosure and they can now be observed as they make their first attempts at spring mating.
"Tortoises are ectotherms, so get their heat from their surroundings. That is why we waited until the weather was really nice enough to let them out," said reptile curator Petr Velenský. "They immediately raced across the lawn, not knowing what to do first, whether to start chomping into the lush grass or show their joie de vivre through courting. I say 'racing', but that's a bit of an exaggeration, it's more rolling, like little tanks, but the speed and especially the vigor of their movement can be surprising to the layperson."
During the winter months, the indoor group was separated and it is only now that the male tortoises have been reunited with the females and young males outside.
"For tortoises behaviors that look like mating or attempts to mate are not simply about reproduction. It's more of a social act for them. They are very gregarious creatures, they show their affection and they are very attached to one another in this way," said Velenský, clarifying their behavior during mating.
The Giant Tortoise Pavilion is inhabited by Santa Cruz and Pinzón Island giant tortoises. However, not all of the twelve-member group find sunbathing very attractive.
"The females only go out to graze and come back in again, just like the two young male giant tortoises," said Nataša Velenská, the head keeper for the giant tortoises. "And then there's our Antonio, the male Pinzón Island giant tortoise. Over the summer he becomes the lord of the pavilion and enjoys having it all to himself during the day. In fact he hardly ever goes out."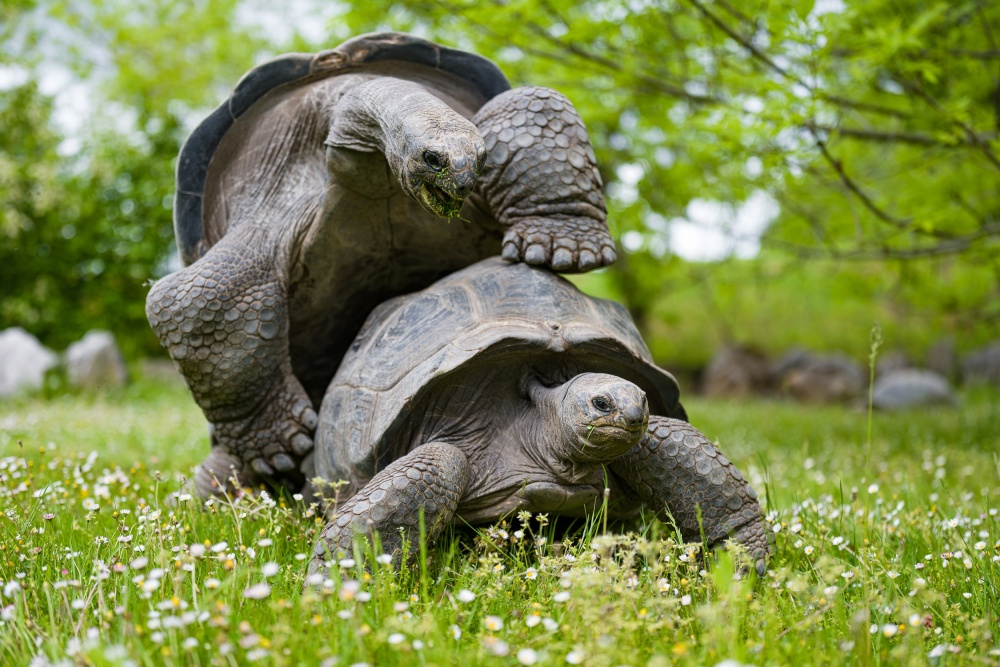 According to the keepers, the return to the grassy enclosure has the tortoise group very excited, and at the moment they are vociferously showing their mutual affection by attempting to mate. Author: Petr Hamerník, Prague Zoo