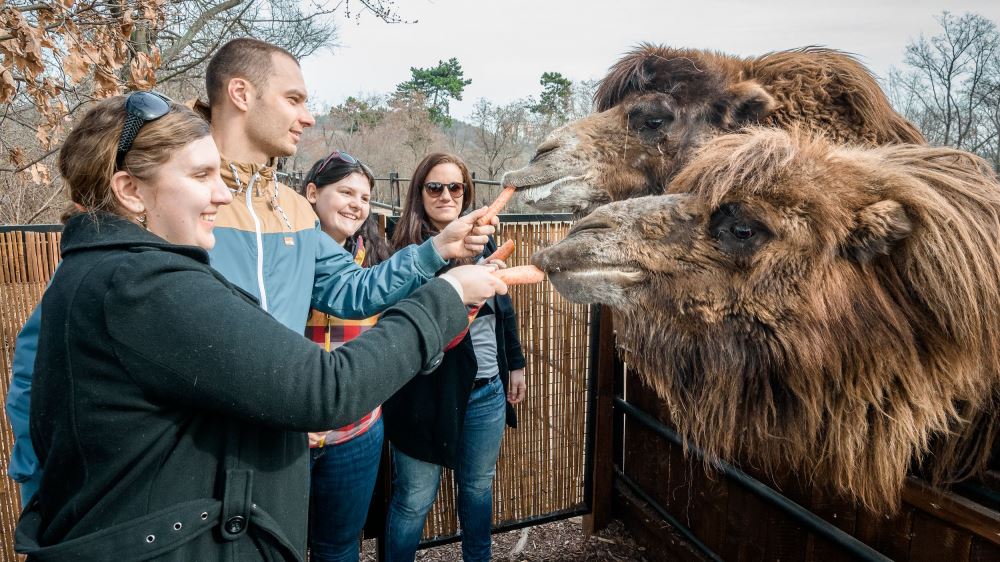 The visitors will be able to get nearly as far as the camels' enclosure and offer them their prepared feed; at this time, they will be allowed to enter the corridor leading to the camels' enclosure. They will be very close to our animals and they can even stroke the camels. During the programme, we will introduce the participants to all members of the camel herd in the zoo. At the same time, they will learn many interesting facts about the life of camels in the zoo and in the wild. For safety reasons, the experience is only for those over 6 years of age (children under the age of 6 are not allowed to enter).

Experience programme: 30 minutes (the visit duration may vary)
1:30 p.m. – welcome, at the camels' enclosure
1:40 p.m. – moving on to camel feeding
2:00 p.m. – end of the visit

Price of the experience:
150 CZK adult
100 CZK child (6-15 years)
400 CZK family (2 adults + 2 children aged 6 to 15 years)*
750 CZK whole group (6 persons)
The price does not include the entrance ticket to Prague Zoo
* From the day of reaching the stated age / until the day preceding the day of reaching the stated age
* Persons under the age of 15 must be accompanied by a legal guardian.
The programme must be ordered at least 14 days in advance via e-mail: novak@zoopraha.cz.