Tom and Berta – Polar Bears
Tom and Berta are each of a quite different mold. While confident Tom would like to play all the time, often inventing various dirty tricks on the keepers, similar practical jokes are alien to the nature of four-year-older Berta; she sometimes seems to lack the necessary self-assurance. In spite of this, the two of them get along with each other perfectly.
Tom comes from Brno, where he was born on November 23, 2007, and with his brother Bill soon became a local baby star. In contrast, Berta is native to Prague: she was born to Bora and Alík on December 2, 2003, and has spent her whole life at the Zoo in Troja.
As a baby bear, Berta entertained everyone by her unbelievable energy with which she romped in water and played with buckets. The keepers did not know the baby's sex at that time but guessed that it was a male – and so Petr Hapka, a famous Czech musician, named the baby Albert. Later, when it had turned out that the supposed boy was, in fact, a girl, it was sufficient to change the name a little – and Albert became Berta.
Berta and her mother Bora formed a close couple for some time. However, after approximately two years, the relationship between the mother and the daughter got worse – Berta had reached the age when baby bears in the wild leave their mothers and become their own masters. The keepers could not do anything else than to separate them and keep both the females away from each other. Fortunately, the Prague enclosure for polar bears allows such measure because, in fact, it consists of two enclosures interconnected by a closeable passage.
Peace in the family was restored by the arrival of a little bear rascal, Tom, in 2009. The keepers got the idea to try to put the whole trio together and the result exceeded expectations: all the three bears got used to one another perfectly. Small Tom was only one year and a quarter old at that time and Bora started taking care of him as if he were her own son. Thanks to her, Tom got used to his new home in Prague perfectly.
Nowadays, Tom is by far the most energetic bear in the Prague gang and has formed a well-matched couple with Berta. They like romping in water and if Berta does not feel like playing at the moment (after all, she has become a little quieter since the time when she was a restless baby bear), Tom, with equal intensity, enjoys playing with one of the many toys bears get – from balls and tires through sea buoys to traffic cones. And because there is never enough fun, Tom has devised one more trick to entertain himself: he likes teasing children and dogs by emerging from water all of a sudden before them and surprising them.
If the keepers are not cleaning the swimming pool at the moment or if it is not time to eat, the bears may walk freely between the enclosure and the off-exhibit spaces, where there are common premises and separate boxes available for them. When lunch is approaching, they become restless and indicate by walking up and down that they look forward to feeding, which is once a day. They like sea fish most of all – mackerels or herrings; they enjoy eating salmon and beef. Their food includes also fish oil, which contains important vitamins. In hot summer weather, the bears enjoy an agreeable change in their diet: the keepers prepare a special bear ice-cream for them from frozen fish, carrots, apples, and water. And since 2015 they have had an ice maker in their enclosure so that they can enjoy cool snow even in mid-summer.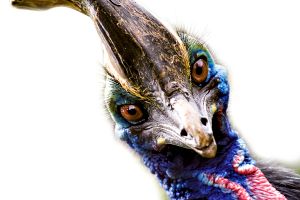 Meet the 24 most interesting animal inhabitants of Prague Zoo – personalities that you may know from zoo 2010–2012 posters!