Seeta and Radja – Great Indian Hornbills
Majestic and graceful, the Great Indian hornbill is surely one of the most impressive birds in the world. That goes double for Radja and Seeta, as they are among the largest of the hornbills living at Prague Zoo. When you're walking past the aviaries of the Pheasantry, stop for a moment to take a look!
Great Indian hornbill keeping has a long tradition at Prague Zoo: the first individuals came to the Zoo in the 1950s, and since then there has always been at least one here. For a long time they were the only one of the three known hornbill species of the Buceros genus kept at Prague Zoo. The other two species – Rufous Hornbill and Rhinoceros Hornbill – only came to Prague Zoo with the new millennium.
Because of their large bill, hornbills are often confused with toucans, yet they are not related at all. They can be distinguished from toucans very easily thanks to the typical bill casque that is especially big in hornbills of the Buceros genus. And it is thanks to this casque that Seeta and Radja can be told apart. The casque edges of the Great Indian hornbill males are hemmed by a black line, whereas the female casques are all yellow. And if you're still not sure, it's best to look the birds in the eye. Seeta, the female, has bluish-white irises framed by slightly reddish eyelids, while the irises of Radja, the male, are red and his eyelids are black.
Seeta was imported to Prague Zoo in 1989 at a very young age. Radja, who is the same age as her, joined her nearly four years later. They soon became a couple, but their relationship has not always been purely harmonic. Although they tried to nest many times, they have never been successful parents. In 2009, Radja started being violent toward Seeta, so they had to be separated. Each of them got a new partner but they were not completely happy in their new couples either. Eventually, after four years, the zookeepers decided to put them back together, hoping their relationship might have improved. And it turned out to be a good move: in the last three years the relationship between Radja and Seeta has been very harmonic! They are still waiting to raise their first hatchling though.
Today, Radja and Seeta are long-time residents of Prague Zoo and they have become our oldest hornbills – they have both been around for over a quarter of a century. In spite of their age, there is still a chance they will manage to raise a hatchling. It wouldn't be the first time something like this has happened – in the past, a Great Indian hornbill female successfully nested for the first time and raised a healthy hatchling when she was over 30. Fingers crossed then!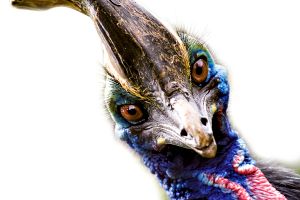 Meet the 24 most interesting animal inhabitants of Prague Zoo – personalities that you may know from zoo 2010–2012 posters!